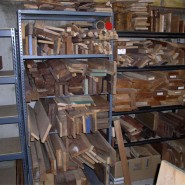 Leaf Jewelry Box Beginnings
The first thing I do when making a new batch of leaf boxes, or any project for that matter, is to look through my previous notes. I then prepare my tools and make sure they have everything they need; such as, sanding belts/discs, router bits, finishing supplies, hardware, etc.  That way, if I don't have something I need, I can order it early in the process.
Next, I dig up all the wood. Looking through my racks upon racks of wood is not my most efficient process, but I love doing it.  Often times, I'll find boards I've had for over 15 years, but just had not found the right project for them.   As for the leaf, I'll look for boards that are are a minimum of 3″ by 12″ for the body of the jewelry box.  They can also be multiples of that dimension, such as, 6″ by 12″ or 3″ by 24″.  For my needs, the best size is 3″ by 24″, as that size can be held down on my machine effectively as it's being routed.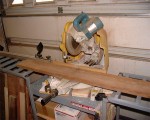 Since most of my lumber is in the rough form, (ie. how it comes from the saw mill), the first thing I do is chop the board down to size with my Makita chop saw.  I then face join one surface with my Inca joiner/planer.  Next, I surface the board to 1″ thick using my Delta 13″ planer, or as thick as I can cleanly get the board.  I then sand both faces with 100 grit belt using my 16″ North State wide-belt sander.  The board is now prepped and ready to be routed.
More on making the leaf box next time.