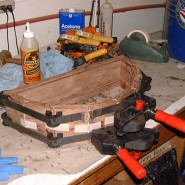 The Clam Jewelry Box Body
Making the half-circle front to the clam jewelry box can be done in two ways:
A bent laminate ( bending veneers around a caul)
A solid wood  front built up with segments.
I chose to use solid wood because I wanted the lid to be flush with the body of the box and I wanted the most durable method. The laminate/veneer method couldn't tolerate the sanding necessary to make the lid flush.  Both methods are labor intensive.
There were quite a few steps to making the segmented front because I wanted to reinforce each segment with splines and inset the back part into the back two segments.  I chose the use of 8 segments to match the 8 segments used in the lid. I drafted the parts using my CAD program and established the necessary dimensions.  After cutting the first set of segments I realized I had to be very accurate with the thickness and width of the segments in order to get the 18″ outer diameter required for the jewelry box.  In the photos you will see two slots- one for the bottom to set in and one to make it easier to saw off the lid section with the band-saw.
Clamping and gluing the segments was fairly straightforward using Gorilla glue and Bessey band clamps.  The Gorilla proved to be a great choice because its long open time allowed me to glue all the segments and splines in one shot.  At first the back was not glued in, but was used as a support during clamping.  I needed to remove the back in order to band-saw and sand the inside curve smooth.
Once I had the inside curve smoothly sanded, I cleaned up the slot that will hold the bottom with a chisel.   I then cut out the bottom shape and test fit it into its slot.  With the bottom fitting good in its slot, I glued the back to the front segmented section.
This concludes the main steps to making the body of the giant clam jewelry box.  Tune in soon for the surprise interior parts!