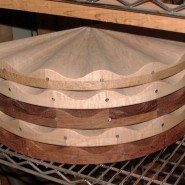 The Clam Jewelry Box Inlays
I didn't think there would be challenges to the abalone dot inlays, but there was.  Maybe one day I'll make my life easy and design and build a rectangular jewelry box like everyone else.  A few of the inlays had to be drilled out and redone because they got tilted in the hole as I was tapping them in.  Of course they were glued in to place with a quick setting glue.  There was about an extra half hour of work, but all is well and the lids look great.  They are completely sanded and ready for finishing.
Next will come the most challenging part, the inner trays.  The plan is for there to be two trays which rotate off a bronze bearing.  Once I get past that, the boxes will be very close to being finished.  Check back in a week.