Trapezoid Box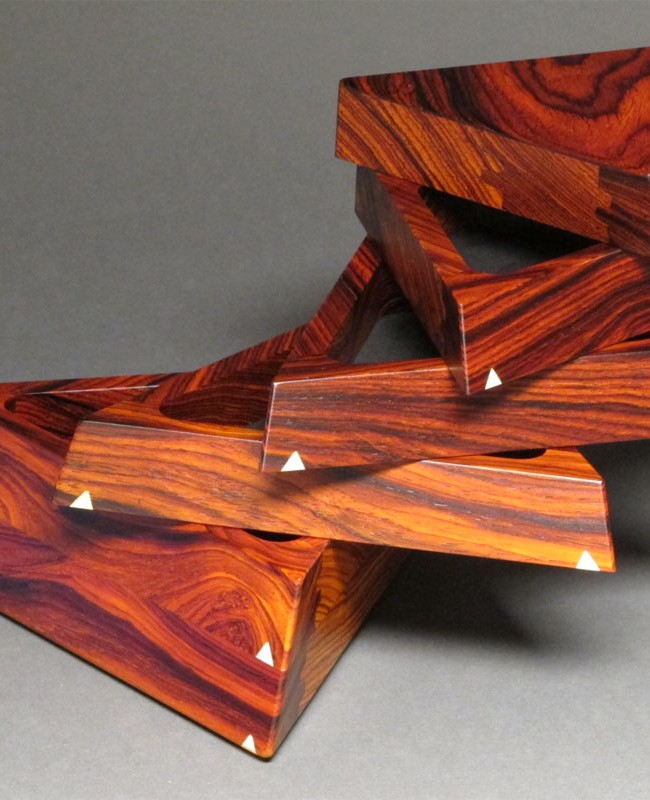 This pivoting jewelry box has a weighted base to keep its balance when opened up. This gives the box a very unique look as if it defies gravity. The Trapezoid Box, when closed, represents a trapezoid at each of its 3 sides. Each triangular compartment pivots off the brass rod running straight down the back corner of the box. The compartments are able to turn freely around a 360 degree axis and will not tip due to the weighted base (1 pound of buck-shot). The secret compartment can be accessed by removing the top level, and large enough for a key, earrings, several rings, etc. The trapezoid box can hold several jewelry items such as cuff-links, earrings, rings, and necklaces.  It also makes a great executive desk gift.
Features:
• magnetic secret compartment
• genuine Ultrasuede leather lining
• weighted base
• time consuming lacquer finish
• contrasting wood inlays
• award wining design
The Trapezoid Box is featured in the book by Andrew Crawford named Fine Decorative Boxes, Sterling Publishers, page 139. It was also featured in American Woodworker magazine, April, 1998.  I've been making the box since 1994.
Dimensions: 7″ (17.8cm) triangular base, 5.25″ (13.3) h, trays are approximately .75″ (19mm) deep.
An original design by Eugene F. Watson
Copyright 1994-2016, Watson Woodworks, LLC